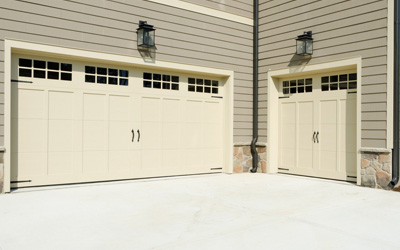 It is important to choose the right material for a garage door. It will ensure that your overhead door performs for years to come without causing you any trouble. While choosing the material, make sure it perfectly meets your need, home style and design. There are a variety of materials available in the market. Every material has its own pros and cons. No matter what type of material you choose, make sure you get it installed by a professional.
Below are the examples of few garage door materials that one can make it as a home choice:
Steel
Steel is one of the most robust garage door material that is most common. It is the most cost-effective and offers great value. Moreover, it is completely easy to customize and are available in different colors and style.
Wood
If you are looking for authentic material, then wood is the material for you. It is the most versatile material that can be customized as per your needs and home design. Though, they need a frequent refinishing, but that can be managed since every type of door requires a little maintenance.
Aluminum
For your double doors, aluminum is the best and most affordable material. This material is dent-resistant and can perform for years to come.
Vinyl
A vinyl door is also the one material that is extremely hard to dent or break. Even, compare with other materials, they are more reliable and available in a variety of colors and design.
Fiberglass
Fiberglass garage door material is the latest choice for all the homeowners. This material is very versatile and light in weight.
If you are not sure about which type of material you should choose, come to us. At KW Garage Doors, we help our clients install the best quality door in your residential and commercial property.