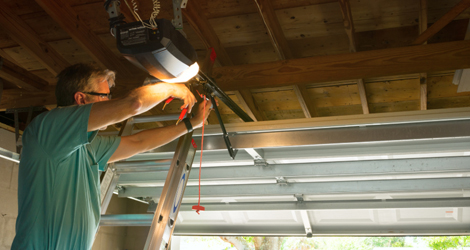 A garage door is made of complex mechanism where small to big each component is necessary to keep it functional. In these all components, the two most important door springs are torsion and extension. Though these both springs do the same job, but operate in the different manner. Unfortunately, if your garage door any springs break down, your garage door may forcefully come down or deliver damage or injury.
When you need your garage door spring replacement then you have to inspect your garage door and make the necessary repairs carefully. Because, your little mistake can bring a big damage
Torsion Springs
Torsion springs give force to the garage door to open and close while the cables and drum support its weight. On an average, it covers the 10,000, 20,000 and 30,000 cycle of open and close. Almost all garage door supports one spring, if you add two spring, it will improve your garage door performance. Remember, the weight of the door also determines how much springs should be installed.
Extension Springs
When you proceed for garage door installation, the springs are mount on both sides of the door. These are attached to the one end and to another end of the track support. The extension springs are attached to the bottom bracket, however, it passes through the row of pulleys before aligning the track. Via clip adjustment, the door stays balanced.
If these two springs break down, the cable around these springs prevent from the uninvited issue. So, one should monitor the springs and replace these when you expect any issue. You can hire the professional garage door experts at Garage Door Kitchener & Waterloo. We offer installation and repair of the residential and commercial garage door.