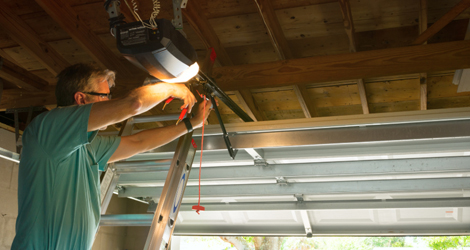 Garage doors are one of the heaviest doors that are installed to provide safety and protection to your vehicle. They are costly investments and needs to be maintained regularly to prevent costly repairs. No matter, which overhead door model you have installed, it is important to clean and lubricate it often. When it comes to door maintenance, there are several things you should concentrate upon, some of which includes:
Always use the best quality lubricant such as WD-40 or citrus based solvent to lubricate the rollers, hinges, tracks and latches. Since door friction matters a lot during the opening and closing mechanism, make sure that every elements moves smoothly without any stress. Lubricating prevents rusting and corrosion of metal parts.
Once the lubrication process is completed, wipe off the extra oil to avoid sticking of dust particles. Apply a light oil, such as 3-in-1 lubricant at least once every month to the moving door components.
In case, you notice any weird sound such as screeching or scratching, carefully remove and soak the rollers or hinges in kerosene. Then, take a small flexible brush to clean the rollers effectively. This will remove any sort of accumulated debris or dust particles. After that, wipe them using a lubricant.
Door openers are responsible for making the door operated. They can be automatic, chained or drive screw. Garage door maintenance is often incomplete without lubricating or maintaining the overhead door opener. It's better to seek the assistance of a licensed garage door technician to deal with the opener repair and service.
Check the weatherstrip installation at the bottom of the door. Since it aims to keep the dust particles, snow and other weather elements at bay, always make sure that your weatherstrip is in a good shape and replace it quite often.
So, these are some of the common overhead door maintenance tips you should follow to maintain the performance of your automatic garage door. If you are looking for a full-service garage door company in Kitchener to perform periodic maintenance, look no further than us.